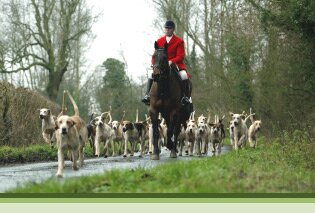 The Support Hunting Association is one of the UK's most prominent pro-hunting organisations, now incorporating issues related to Game Shooting, Fox Hunting and Angling.
About Us

Full Contents

The menus below contain the full contents of the site.
News Centre
Background Information
Information on Hunting
The Hunting Bill
Other Links
Latest News RSS Feed
Search our site

Search our site using Google.
| | |
| --- | --- |
| | WWW Supportfoxhunting.co.uk |
Have you seen these pages?

Police View of a hunting ban - Two chief constables voice their concern on a ban on hunting. Timelines -On the current Hunting Bill, the attempts to ban hunting, and on the ban in Scotland. Hunting vs. Human Rights - Parliament has advised that the Hunting Bill is incompatible with the Human Rights Act.
Quotes


The ban has guaranteed that the time and money invested by the League Against Cruel Sports and the RSPCA has increased animal suffering. We told them this would happen. This rise in suffering since the ban is the cost of ignoring that warning!

Daily Telegraph
3 May 2005.


Numerous police officers accompanied the more than 250 hunts which took place yesterday, the first day that the sport became illegal. Despite the friendly exchanges between officers and huntsmen and women, the presence of the police posed a question: what public good were they trying to uphold?

Daily Telegraph
20 February 2005.
News Centre

Welcome to our news centre. Here you can find the latest news on game shooting and fox hunting.

05.11.06: National Trust may relax hunt regulations


5 November: Members of the National Trust have voted to relax their rules on hunting on Exmoor. If the vote is adopted as trust policy, hunts will be able to follow sick or injured deer on to their land to kill the animal. Trust members voted to allow hunting of stags at the Holnicote Estate, which forms much of Exmoor. The results at the annual general meeting in Cheltenham were 12,768 in favour of the ban, 20,188 against.

BBC News: Trust may relax hunt regulations

5 November 2006.

Read the latest

.
07.11.06: The banned rode on


7 November: Eighteen months ago hunting was banned. Or was it? The hounds are still running, foxes are still being killed and the number of people taking part has actually increased. As the new season begins, Stephen Moss saddles up and discovers how the hunts are outfoxing the law.
04.11.06: Hunters mark beginning of season


4 November: The fox hunting season has got under way with thousands of enthusiasts setting out on foot and horseback following packs of hounds. Police and hunt monitors were out checking people stayed within the law. Hunting foxes with dogs in England and Wales was banned in 2005 but hounds can be used to follow an artificial scent. Supporters said they would test the "ridiculous law" to its limits while anti-hunt protesters warned more hunters could be prosecuted. Under the new guidelines, dogs can also be used to flush out a fox, which can then be killed by a bird of prey or shot - as long as only two dogs are involved in the process.
01.11.06: Mike Hobday gets Labour party vote


1 November: Mike Hobday has been chosen to stand as Labour's parliamentary candidate for Welwyn Hatfield. The decision was made by ballot on Saturday and concluded a four-month selection contest between candidates from all over the country. Speaking after the selection meeting, the former WGC county councillor said the economy had been good under Labour for Welwyn Hatfield.
30.10.06: Countryside Alliance: Hunting continues to grow


30 0ctober: A new survey of hunts, carried out at the start of the 2006/07 season, has revealed that support and participation continue to grow, and that more land is available for hunting than before the Hunting Act. The news for foxes and hares is, however, not so good with over a third of hunts reporting that there are fewer in their areas. The survey is based on returns from 61 hunts, just under a quarter of those registered with the Masters of Foxhounds Association and the Masters of Harriers and Beagles. Hunts were asked to compare the level of support, the number of subscribers, the amount of land available for hunting and the status of the quarry species with February 2004 when the Hunting Act came into force.
07.09.06: Telegraph: Hunt man turns himself in after dog kills mouse


7 September: A retired police officer has admitted twice flouting the new hunting law by allowing his terrier dog to chase and kill a mouse and a mole. George Morrison, 51, reported himself to former colleagues but he was not prosecuted over either incident. He turned himself in to the police on both occasions to demonstrate that the 2004 Hunting Act was a "ridiculous law". Under the legislation, moles and mice are classed as mammals that cannot be killed by dogs, although they can be shot by a competent huntsman.
24.08.06: BBC News: Huntsman appeals ban conviction


24 August 2006: A Somerset man who became the first person to be convicted for breaking the ban on fox hunting with hounds has lodged an appeal against the decision. Tony Wright, 52, of Simonsbath, was fined £500 and ordered to pay £250 costs after a private prosecution by the League Against Cruel Sports (LACS). Appeal papers have been filed at Exeter Crown Court where a first hearing is expected within two months. The league said it would fight Mr Wright's appeal.
16.08.06: Hunting is 'not top of police priorities'


16 July 2006: A chief police officer yesterday quashed campaigners' hopes that the force will clamp down hard on illegal hunting by saying it was "not top of the list of priorities". Assistant Chief Constable Richard Stowe, of Devon and Cornwall Police, yesterday said incidents of flouting the law on hunting would be treated "the same as all other wildlife crime". His comments were in response to demands from the League Against Cruel Sports, which spent £65,000 in a private prosecution against Exmoor hunstsman Tony Wright at Barnstaple Magistrates Court earlier this month.
04.08.06: Countryside Alliance: Huntsman will appeal court decision


4 August 2006: Exmoor Huntsman Tony Wright will launch an appeal against his conviction for an offence under the Hunting Act following today's verdict in a Barnstaple magistrates' court. Tony Wright was found guilty despite undisputed evidence that he was attempting to comply with the conditions for 'exempt hunting' with two hounds, a marksman and that a fox was shot. Simon Hart, Chief Executive of the Countryside Alliance, said: "No right minded person thinks that Tony Wright should have been branded a criminal. "If people were confused about the Hunting Act before today they will be a lot more confused now. We believe that he was trying to comply with the law as he understood it and will be supporting his appeal. "This is a piece of legislation which took seven years and 700 hours of parliamentary time to get onto the statute book yet still it is illogical and unclear. "Any law which can put a man like Tony Wright through nine months of court action and tell him he is a criminal for doing something he believed was entirely legal clearly isn't working".
14.07.06: Anger over 'anti-hunt propaganda'


14 July 2006: The government is being accused of funding "anti-hunt propaganda" in a new guide to the British constitution. The guide says Labour MP Kate Hoey almost certainly did not reflect the wishes of voters in her London seat when she voted against a hunting ban. ..."The last election result in Vauxhall [when Ms Hoey won a majority of 10,000] certainly did not suggest that Kate was not reflecting the wishes of her constituents," said Tim Bonner, spokesman for the Countryside Alliance.
04.07.06: Countryside Alliance appeal to Lords


4 July 2006: The Countryside Alliance is refusing to give up the fight to overturn the controversial ban on hunting After the Appeal Court last week rejected a challenge to the Hunting Act under Human Rights and European Law, Alliance chief executive Simon Hart said the organisation would now apply for its case to be heard by the House of Lords and, if necessary, by the European Court of Human Rights in Strasbourg. ...[Last week, the] three appeal judges upheld the High Court ruling that the hunt ban was lawful, did not breach human rights and did not infringe EU trading and employment laws.
13.03.06: New move to outlaw government hunting ban



A fresh attempt was launched today to have the Government's ban on hunting with dogs declared unlawful. The Countryside Alliance and other pro-hunt campaigners asked the Court of Appeal to rule that the ban breaches the European Convention on Human Rights and infringes EU trading and employment laws. The courts have already dismissed the constitutional challenge to the 2004 Hunting Act, which prohibits fox hunting, deer hunting and hare coursing with dogs in England and Wales. The Alliance has branded the legislation "a divisive sectarian measure" which could ruin the livelihoods of thousands who earn their living from hunting. Richard Gordon QC, appearing for the Alliance, argued today it would cause more suffering to many animals, not less, and have very serious economic consequences. Also See:
23.02.06: Farmer is badly hurt in clash with saboteurs



A hunt supporter is seriously ill in hospital after suffering a fractured skull in a confrontation with saboteurs. Seven people were arrested after the incident, which happened as the East Sussex and Romney Marsh Hunt held a trail hunt on Monday. Hunt members said that a group of 30 saboteurs, many wearing balaclavas and carrying fence posts and bricks, had turned up to their meet. They said that the victim, a farmer in his late twenties, had been following on a quad bike when he became separated from the rest of the 25-strong hunt.
17.02.06: Tally Hoey! Freedom means not running with the Labour pack



The day the ban came into force Kate Hoey went hunting with the Beaufort. A year on, she is thrilled that hunting is more popular than ever... "All the hunts have got far more people going out with them. It's part of the British rebellious streak that as soon as something is banned it becomes more attractive. There are a lot more women going out, a lot more young people, people are getting fed up being told how to run their lives." she said. Although animal welfare campaigners saw the ban as a victory, she says more foxes are dying now than before and she admits that many are still being killed by hounds.. "Accidents happen," she says, "If you're going out legally following a scented fox trail and the hounds come across a real fox, they can kill it before it is possible to shoot it."

Daily Telegraph: Tally Hoey! Freedom means not running with the Labour pack

17 February 2006.

Read the full article

.

Also See

Daily Telegraph Opinion: Hunting in the pink
17 February 2006. Read the full article.
17.02.06: Hunts accused of breaching ban



The names of 33 hunts accused of repeatedly breaching the Hunting Act have been sent by the League Against Cruel Sports to chief constables in England and Wales. The decision by the animal welfare organisation to focus attention on alleged "repeat offenders" comes on the eve of the first anniversary of the ban on hunting with dogs.

Among incidents complained about is one in the home counties shortly before Christmas, in which the league claims a fox was thrown alive to the hounds. It says it has witnesses but no film of the event. In another alleged breach of the law, a full pack of hounds from a West Country hunt reportedly tore to pieces a fox which had been befriended by a young child; again the league has no film of the incident.
19.01.06: Ex-Mirror journalist brands hunt ban "stupid"



Former Mirror political editor David Seymour criticises the paper's anti-hunt line as he speaks exclusively to Horse & Hound. David Seymour "parted company" with the Mirror Group last Friday after 12 years as political editor. On Saturday, he went hunting for the first time with the North Cotswold in protest at the Daily Mirror's anti-hunting reporting — and the "stupid" hunting ban.

"When I joined the Mirror I was anti-hunting, in the way you are when you don't think about it," said Seymour, 62, who lives in London with his wife and twin 13-year-old daughters. "I've been riding for nearly 20 years from Jill Carenza's yard at Stanton in Gloucestershire, where we keep a horse. Over the years, having spent time with riding and hunting folk, I've come to understand what hunting is about — which is rather different from my colleagues at the Mirror."
17.01.06: Hunting is top cultural icon



Foxhunting could top a government poll to find England's greatest cultural icon, despite last February's ban. Yesterday, fox hunting had risen to first place in the online poll Icons: A Portrait of England, thanks to an e-mail campaign by a pro-foxhunting group Felix the Fox. Icons: A Portrait of England is a new scheme designed to paint a virtual portrait of the country by exploring the most cherished items of English culture online. It also aims to encourage debate amongst members of the public as to what defines England. The two-year £1 million project has been commissioned by Culture Online, part of the Department for Culture, Media and Sport.
27.12.05: Hunting ban 'needs tightening up'



Conservative MP Ann Widdecombe is calling on the government to tighten up the laws governing hunting with dogs. Ms Widdecombe, who supported the hunting ban, said the original legislation had been too lenient and needed to be re-thought. "The reason that it hasn't been effective is because in many ways we were far too kind in order not to accidentally get other activities like falconry, caught up in it. We left too many loopholes."
26.12.05: 'Successful start' to hunt season



Supporters and opponents of fox hunting have both claimed success after the first day of the new season - the first since a ban in England and Wales. The Countryside Alliance said hunts had taken place within the law across the country, with thousands taking part.
View from the USA:
View from the extreme-left:
08.11.05: Middle-Way Group: Ditch the ban



The Middle Way group is urging the Government to ditch its "unworkable" fox hunting ban, after confusion reigned at hunts that met across Wales on Saturday for the first day of the new season.

Members of the All Party Parliamentary Middle Way Group, Liberal Democrat MPs Lembit Opik and Roger Williams, claim the ban is "worse than useless" and is increasing animal suffering instead of ending it.
06.11.05: Kate Hoey: hunting ban will change



The ban on fox hunting is "so bad and so ridiculous" it will eventually be changed, Kate Hoey told GMTV's Sunday Programme, she said: "The reality is the police know this is a law which is totally impossible for them to enforce and the bad law always ends up being changed. I'm very confident that will happen."

Also see:
05.11.05: Hunting Returns


November 5th saw the start of the first hunting season since the ban on hunting with dogs came into force in February. Thousands of people attended the 200 hunts that met across England and Wales.

With the ban only recently introduced, hunts were eager to try new methods of hunting within the law. The Cheshire Forest Huntbegan using a hawk to kill the fox which had been flushed out by hounds, Hunt Joint Master Peter Heaton said "the hounds are not hunting, but they are flushing for the hawk to hunt. It is one of the ways we are testing the legislation".

The League against cruel sports attended several hunts in an 'attempt to collect information to pass on to the police', whilst the Countryside Alliance released a new report showing that support for the ban is at an all-time low. 45% of people are said to be in favour of the legislation, compared to 63% six years ago.

All the Relevant News Stories:


05.11.05: Man charged under Hunting Act


A Professional huntsman has become the first person in England to face prosecution for allegedly breaking the hunt ban.

Tony Wright is being prosecuted privately by the League Against Cruel Sports after police and the Crown Prosecution Service refused the case.

Mr Wright has been summonsed to appear before Barnstaple magistrates in Devon on November 24.

A spokesman for the League said: "It's crucial this case comes to court. We've made 20 complaints to police but only two have been referred on."

Mr Wright, huntsman at the Exmoor Foxhounds since 1982, is accused of breaching the law at a hunt at Drybridge, Devon. Hunting with hounds was banned last February.

All the Relevant News Stories:


13.10.05: Law Lords reject Hunting Act appeal



Countryside campaigners have lost their latest bid to overturn the ban on hunting with dogs, after nine Law Lords unanimously ruled it would remain.

The Countryside Alliance had argued the legislation used to force the ban through in England and Wales - the 1949 Parliament Act - was illegal.

But Lord Bingham of Cornhill, head of the panel of Lords, said it was valid. The Countryside Alliance vowed to fight on, while anti-hunt campaigners called it a "triumph for democracy".

Another challenge to the Hunting Act by the Countryside Alliance, under European human rights legislation, goes to appeal at the High Court next year.

All the Relevant News Stories:


Latest: Shooting & 'Beating' the ban


Labour MP attacks move to ban shooting (icWales, 27 Sept. 2005)
A Labour MP yesterday launched a bitter attack on an animal welfare campaign group... over the future of shooting and angling. The row erupted at a Labour conference fringe meeting in Brighton organised by the League Against Cruel Sports, after [it] called for an end to a cruel 'killing' field in the countryside that saw millions of birds slaughtered annually for sport. Reading West MP Martin Salter, a keen angler who advises Sports Minister Richard Caborn on hunting and shooting... confirmed there are no plans to ban shooting and angling, sports which he said are enjoyed by millions of party supporters. Mr Salter said [LACS] should not think that because Labour had worked closely with it on the fox-hunting ban it meant he could control elected MPs... and [confirmed that] acres of woodland managed for shooting estates contained some of the best biodiversity in the country, with shooting employing 37,000 people and making a £600m contribution to the economy. Click here to read the full article at icWales.

How do hunters plan to get round the ban? (BBC News, 27 Sept. 2005)
Activists fighting the anti-hunt legislation are urging horseback hunters to saddle up and give the government a run for its money as the new hunting season gets underway. Despite the highly controversial ban on fox hunting with hounds, which came into force in February, the law still allows hunting of certain other creatures. And "loopholes" mean that even foxes could be legally killed in a hunt, if it is unintentional and by accident. Click here to read the full article at BBC News.

Eagles 'used to beat hunting ban' (BBC News, 17th Sept. 2005)
Hunts are buying birds of prey to try and side-step the ban on fox hunting with hounds, falconry experts warn. About 20 hunts have bought golden eagles and eagle owls in the belief they are acting within the law. Using dogs to flush wild mammals for a bird of prey to hunt is an exemption set out in the Hunting Act 2004. Click here to read the full article at BBC News.
Latest related news

Met Police accused of 'tit for tat' hunt supporters' arrests (14 Sept. 2005)
The Metropolitan Police have been accused of carrying out "tit for tat" revenge prosecutions after last year's Parliament Square pro-hunting demonstration. Protesters who made official complaints to the Independent Police Complaints Commission claim that after their details were passed to the force they were "targeted" by the Met. Click here for more.

Hunt ban bites in Countryside (18th August 2005)
Rural businesspeople in Yorkshire say they are already being hit by the effects of the ban on hunting with dogs even though the new hunting season is still more than two months away. Click here for more.

It's too risky to halt hunts, say police chiefs (5th June 2005)
Police have been told not to foil illegal fox hunts when the hunting season begins because of health and safety regulations. Guidance drawn up by police chiefs instructs officers to take the most cautious approach when investigating reports of illegal hunts for fear that they might injure themselves. They have been told not to go near hounds or horses and not to confiscate dead animals as evidence in case of injury or infection. Click here for more.
News: Just have a quick look at these reports...


The genial statesman with a lethal sting (Daily Telegraph, 7 August 2005)
Labour MP Gerald Kaufman - one of Parliaments most prominent anti-hunting MPs - writing an obituary to the late former Foreign Secretary Robin Cook:

"Unlike many front-line, successful politicians, he had a life outside politics. He was a racing tipster and a horseman. He was one of a small number of Labour MPs who opposed a ban on fox-hunting. When I was Shadow Home Secretary he asked me to meet him and a pro-hunting trade union leader, so that I could heed their appeal not to make a ban on hunting official Labour party policy. Since I always regarded this as a conscience issue to be decided on a free vote, I was able to oblige and the meeting ended amicably."


Hunting ban breakers 'targeted' (BBC News, 18th May 2005)
Some anti-hunt campaigners are targeting the homes of huntsmen they think are breaking the hunting ban, a senior police officer has said. Sussex's Assistant Chief Constable Nigel Yeo said he knew of cases of houses and kennels being targeted. These had happened since the ban came into force in February, Mr Yeo told the Association of Chief Police Officers' annual conference, and he said he feared the conflict could escalate when the hunting season began. Click here for the full story from BBC News.

General Election 2005: Hunt supporters thanked for role in ousting Bradley (Daily Telegraph, 8th May 2005)
The Tory MP who unseated Peter Bradley, the anti-hunting campaigner, in The Wrekin led tributes last night to the silent army of hunt supporters whose efforts helped the Conservatives snatch 29 semi-rural seats from Labour in the general election. Mark Pritchard, the new Conservative MP for The Wrekin in Shropshire, was one of 130 candidates, most of them Tories, who received help from 20,000 countryside campaigners who poured into marginal seats all over Britain in an attempt to unseat anti-hunting Labour MPs. Mr Bradley, whose 3,587 majority was overturned, found himself at the front line of their efforts after he wrote in The Telegraph that the struggle over the legislation to ban hunting with hounds "was not just about animal welfare and personal freedom, it was class war". (Also see below: 'Yes - this is class war'). Click here for the full story from the Daily Telegraph.
In-Depth Sections

The Timelines
For timelines on the Scottish ban, Attempts to ban hunting and the current Hunting Bill. The Hunting Bill
For the latest on the current Hunting Bill going through Parliament. The Scottish Ban
A full in-depth guide to the ban on hunting in Scotland.
Archived Reports